10 My.Size Natural Latex Condom 49mm
More feeling: Using the correct size of MY.SIZE gives you more natural feeling because the condom feels less.

Easier to unroll: Unrolling a MY.SIZE condom, compared to many other brands of condoms, is easier, because it does not slip and does not squeeze.
Find your perfect condom

The perfect size condom? The perfect size is the size with which you feel comfortable.

Do you prefer a wider condom or a narrower one? Choose a size larger or smaller. The most important thing is that the condom does not slip.

Studies have shown that many men rate standard-size condoms as too small or too large. A condom that does not fit well gives you less security and less comfort. To find your perfect condom please use our tape measure to measure the circumference of your penis.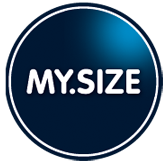 MY.SIZE 47 is recommended for penises from 9.5 to 10 cm
MY.SIZE 49 ies recommended for penises from 10 to 11 cm
MY.SIZE 53 is recommended for penises from 11 to 11.5 cm
MY.SIZE 57 is recommended for penises from 11.5 to 12 cm
MY.SIZE 60 is recommended for penises from 12 to 13 cm
MY.SIZE 64 is recommended for penises from 13 to 14 cm
MY.SIZE 69 is recommended for penises from 14 to 15 cm